There have been over 3.8 million Belarus made tractors produced up today, making it one of world's largest tractors manufacturers.
No wonder that such huge installed base attracts many unscrupulous parts suppliers.
There are dozens of "manufacturers" in China, Pakistan, India, Ukraine etc. , all are offering parts for Belarus made tractors, many claim the parts are "original".
How to avoid fakes, grey market and other non-trusted parts ?
Buy only from Factory authorized distributors.
Belarus based Minsk Tractor Works is listing all of the Factory Authorized distributors:
USA: http://www.belarus-tractor.com/en/dealers/usa/
Canada: http://www.belarus-tractor.com/en/dealers/canada/
MTZ Belarus Tractor Manuals
Head Office:
3-1136 Centre St, Ste. 124
Thornhill, Ontario.
L4J 3M8, Canada

Warehouse (click for map):
2682 Highway 34,
Hawkesbury, Ontario.
K6A 2R2, Canada

Tel.: 1-855-2GO-4MTZ (1-855-246-4689)
Fax: 1-647-933-9066

E-mail: This email address is being protected from spambots. You need JavaScript enabled to view it.
Our Heritage - MTZ Tractors - Value and reliability from the world's largest tractor manufacturer!
Minsk Tractor Works (MTZ) was founded on May 29, 1946 in Minsk, Belarus. With a history of more than 60 years, MTZ has become one of the largest manufacturers of agricultural tractors in the world, employing more than 30,000 people.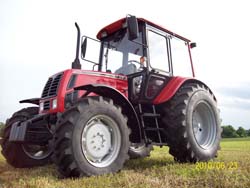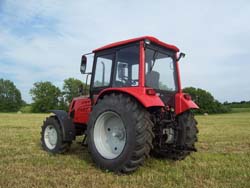 Minsk Tractor Works has produced over 3 million tractorsand exports to more than 100 countries. Today, customers can choose from 62 different models with many assembly options for all climates and operating conditions.
MTZ Equipment Ltd. is the exclusive USA and Canadian Distributor for Minsk Tractor Works. We are proud of this association and will continue the excellence and success with the US and Canadian Dealers that Minsk Tractor Works is recognized for, worldwide.
Warehouse
Our warehouse is located in Hawkesbury, Ontario, between Ottawa and Montreal and maintains a large parts inventory and a comprehensive parts store. For more information about our business hours and directions, please click here.
Service
Our team is dedicated to providing our customers and dealers with a complete service. Our highly trained technicians are equipped to service and repair, providing the low cost of ownership and a reliable and durable machine. Our experience is what allows us to quickly understand customer needs, and determine the most efficient way to solve the issue.
Photos of our facility: